I'm interested in water softener exchange tank services or a home drinking water system – AND a month FREE!
"*" indicates required fields
San Luis Obispo Soft Water Exchange Tank Service
CalSoft Water of Santa Maria is family owned and locally operated. We are THE company to call for water softener exchange tank service in San Luis Obispo, California. We offer the residents of San Luis Obispo the most environmentally friendly water softening solutions available. Our Water Softener Delivery Service and Portable Exchange Tank Systems deliver softened water without the environmental impact of sodium discharge. Our PE Tank water softeners are also some of the most efficient in the industry; they use less water and salt in the regeneration process than a typical water softener.
In addition to our water softener delivery services, CalSoft of Santa Maria also provides complete water treatment, water conditioning, and drinking water systems for your San Luis Obispo home and businesses.
How Hard is San Luis Obispo Water?
Believe it or not, San Luis Obispo water contains up to 22 gpg – that's REALLY hard!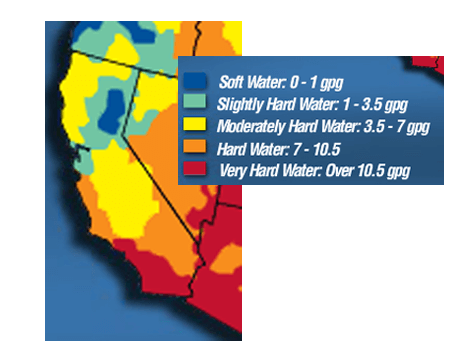 ---
San Luis Obispo Water Quality Report
What do you know about San Luis Obispo water quality?
"*" indicates required fields
Soft Water Delivery Service in San Luis Obispo
CalSoft Water's San Luis Obispo Soft Water Exchange Tank Service is the most eco-friendly way to get soft water in your home. Unlike traditional salt-based water softeners which discharge a salty brine during the regeneration process, our portable exchange tanks reduce salt discharge to almost zero percent. They also reduce household water usage by up to two-thirds, a significant benefit in communities with water usage restrictions.
With our soft water delivery service, our expert water treatment technicians help you determine the water delivery schedule that works best for YOU and your household's water needs. The tanks are handled and maintained by our experienced personnel, there's NO added energy costs, and NO need to handle heavy bags of water softener salt. It's the ultimate hassle-free way to get soft water in San Luis Obispo!
Testimonials About San Luis Obispo Soft Water Exchange Tank Service
Here's what our San Luis Obispo water softener service customers are saying about us:
"My entire experience from the moment I first contacted this company for soft water service right up to final installation was pleasurable … Everyone I spoke with was extremely polite and honest. After years of hauling heavy bags of salt pellets to keep my home softener in operation, I now have a system that I don't have to maintain anymore. I won't mention any of your competitors by name, but the other heavily-advertised soft water service is priced much higher, and they have many more added fees. The soft water home service was clearly my best and most affordable choice." – Michael Young
Why Choose
CalSoft?
CalSoft has been providing quality water softener systems, water conditioning systems, and drinking water purification systems to customers just like you for more than 60 years here on the Central Coast. We are proud to offer:
A complete line of water softener, water conditioning, and drinking water purification products

A national corporation with local service through a network of dealers

Highly trained CalSoft technicians perform all installations and service

Products built to last a lifetime

Service 24/7 - You call, we come!

The best warranties in the industry
When selecting the best home water softener and treatment system for your family, it goes without saying that you want to select a solution that really works. You also want to choose a water treatment system that is eco-friendly while providing quality and value. Maybe it's time for CalSoft!