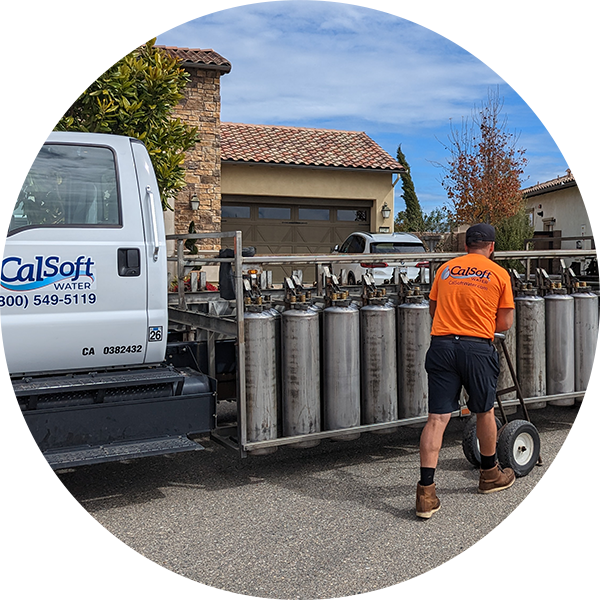 Serving Santa Maria, CA Since 1979
CalSoft Water has been family-owned for over 40 years. In 1979, Tom and Kathy (Don and Mona's brother & and sister-in-law) purchased Rayne of San Luis Obispo. At the time, the business had only 400 customers. The following year, Tom and Kathy were able to buy the local ServiSoft dealership. They combined the two companies and moved operations to the plant at the corner of South Street and Higuera.
Tom and Kathy ran the company from that location for more than a decade. Don and Mona became partners in the company in 1992 and Don became the general manager. Two years later, the Rayne dealership in Santa Maria became available. The South Street plant was closed and operations were moved to our current location on Oakley Street in Santa Maria.
With the help of amazing staff and superior water treatment products and services, Rayne of Santa Maria thrived. After nearly 30 years, Tom and Kathy decided to retire. Don and Mona became the sole owners in 2008.
Today, the business is known as CalSoft Water and has thousands of happy customers, and continues to grow. But you won't just find Don and the staff working hard. You will also find Jason, Don's son-in-law, at the shop and in the trucks. That's because Jason is CalSoft Water's General Manager and represents the third generation to work in this business.
Keeping the business in the family is important to both Don and Jason, and the privilege to serve the people surrounding Santa Maria may one day fall on the shoulders of Don's grandson, Jackson (pictured above walking with Papa). Jackson will be the fourth generation in the business, and he is already learning the ropes (and charming everyone along the way).
CalSoft Water is a proud, family-owned business that is committed to providing excellent customer service and always willing to go the extra mile to help customers, and is committed to the community.
For over 40 years and counting, the family has provided water treatment services with a commitment to excellence. CalSoft Water provides Complete Water Treatment, Water Conditioning, Water Softening, Drinking Water Systems, and Portable Exchange Tank Services in Santa Maria, Northern Santa Barbara, San Luis Obispo Counties, Nipomo, Arroyo Grande, Grover Beach, Pismo Beach, Shell Beach, Oceano, Paso Robles, Templeton, Atascadero, Avila Beach, and surrounding areas.
If you are looking for a reliable and trustworthy local water treatment company, contact us today to learn more about our services.